Help us impact more lives in more locations.
We have outgrown our current ministry vehicle.
Over the past few years we have driven our minivan thousands of miles across the country - packed to the ceiling with all of the gear we need for our camps and events.
This last summer we came to the realization that we just need more space. We have maxed out our capacity to carry the items we rely on each week. But worse than that, with all of our equipment loaded up, we can't take any more people along with us. That's a problem!
During the summer of 2019, with our new interns and other volunteers, we often had 5 additional people traveling with us to our events. On one particular cross-country missions trip we somehow managed to fit 7 people, plus their luggage and our most essential gear, into one minivan. As you can see in the picture above, it was tight! We certainly enjoyed the trip, but we knew this would not be the best option for us moving forward.

What we need is a van that can transport at least 12 passengers comfortably - along with their luggage and our equipment. Additionally, this van (with seats removed) could transport our large set pieces from place to place for our Alive Camps without having to pull a trailer, which proved to be hazardous for our valuable backdrops, lighting and sound gear, props, etc.
Our opportunities are expanding.
We are excited to have the opportunity to lead short-term missions trips to locations across the United States (as well as Haiti and Guatemala). This past year we took groups with us to New York, Kansas City, and Utah. We would love to be able to use this new van to transport smaller groups on some of these short-term trips - making it even more affordable for people to experience these life-changing opportunities.

Not only that, but Alive, our music and drama camp, is growing steadily as well. We are planning to travel to different locations year-round, working with schools, churches, and homeschool groups to offer this one-of-a-kind experience. The biggest hurdle we face right now is transporting our large backdrops and props to and from these locations. This new vehicle would open up so many doors for us with this event.
We are hoping to purchase a Ford Transit Van for our ministry.
After a ton of research we feel like this is the perfect fit for our specific needs.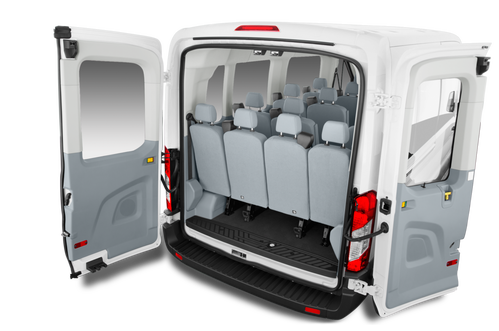 We would like to purchase this vehicle used, 2015 or newer, and with relatively low mileage so that we can use it for years to come. For our purposes it will need to be a medium or high-roof model (medium-roof shown above).

We plan to sell or trade our current minivan to help with the purchase of this vehicle, but we will still need to raise at least $15,000 to make this possible.
Will you partner with us?